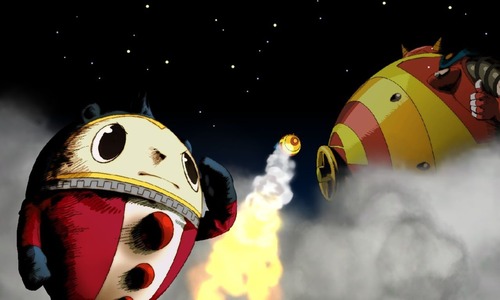 PERSONA ARENA IS SOMETHING THAT HULK HAS HAD FEAR OF FOR ALMOST A YEAR NOW....
ATLUS SPENT SO MUCH TIME MAKING SURE PERSONA BECAME ITS OWN THING...
ITS OWN VERY STRONG VERY FASCINATING THING..
SOMETHING SO STRONG THAT HULK CANT SMASH IT...
HULK TRIED HARD TOO....
SO WHEN HULK FINDS OUT THE NEXT INSTALLMENT IS AN ARCADE FIGHTER...
HULK IMMEDIATELY STARTED YELLING!
WHOLE HULK CAVE CAME DOWN!
PERSONA ARENA IS A MIXTURE OF THINGS HULK HAS EXPECTED FROM THE SERIES, MIXTURE OF THINGS UNEXPECTED,
AND ODD CONTROL SET UPS...
IF SPARKLY AWESOME ATTACKS = WEIRD CONTROL PATTERNS
THEN DISCONNECT WILL HAPPEN!
AND DID HAPPEN!
BUT ATLUS DECIDED TO MAKE THE GAME ANYWAY...
SHEER BALLS WERE NEEDED TO WORK ON SOMETHING LIKE THAT...
BY THE TIME HULK WAS DONE WORKING THROUGH MAIN STORY,
HULK REACHED AN OPINION THAT PERHAPS EVERYTHING SO FAR HAS BEEN PLANNED FOR YEARS, AND THIS REALLY IMPRESSED HULK!
P3,P4, AND P4 ARENA MATCH UP BEAUTIFULLY,
AND P4 ARENA EVEN COVERED TERRITORY
WE NORMALLY NEVER GOT TO SEE IN THE CHARACTERS BEFORE...
THE ANIME ALSO MANAGED TO DO THE SAME THING!
.. IT'S REALLY GREAT HAVING SO MANY DIFFERENT VERSIONS
OF THE ORIGINAL CONTENT ALL ROCKING IT!
AND STANDING AS THEIR OWN IDENTITY!
FOR BEING WILLING TO TRY SOMETHING,
EVEN IF IT MEANS CAUSING ANGER WITH CONTROLS...
HULK GIVES PERSONA ARENA 4 OUT OF 5 FISTS....
CLAYTON WROTE HIS OPINION OVER
HERE...